Originally from the Italian coastal town of Riva Trigoso, the Olivieri family came to California in the 1950's and opened their first "stand" (Len's Den) next to the Santa Cruz Wharf. Aldo fished, while his wife Inez ran their business selling pizza, candied apples and other fresh fare. Their young sons Mauro and Walter helped out, with Mauro just old enough to park cars on
Beach Street Hill.
In 1957 the Olivieri's opened a pancake house on Portola Drive. Aldo still fished, but found time to make fresh pasta and gnocchi each weekend – with recipes used by the family to this day. When the lease expired at the Portola site, the family began looking for restaurant space. Inez recognized the opportunity at the Santa Cruz Harbor and negotiated the Harbor's first lease in 1962, opening a bait and tackle shop. The following year the family opened Aldo's Harbor House Restaurant where the Crow's Nest stands today. The bait and tackle shop then became Aldo's Harbor restaurant in 1977.
As Seen On Diners, Drive-Ins & Dives!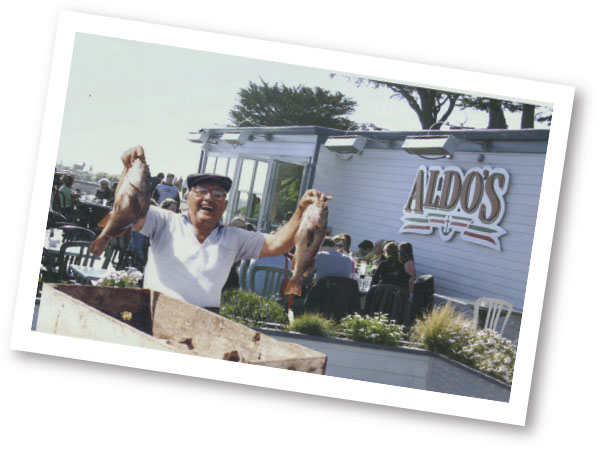 Mauro, in the meantime, grew up, married Nori, and worked in San Francisco until moving back to Santa Cruz in 1980. Walter ran Aldo's from its inception until he retired in 2003. The locals still call the adjacent beach Buffalo Beach, named after Walter's German Shepherd dog.
Today,  Mauro is in the position of family patriarch once occupied by his dad. Renovated in 2004, the restaurant retains its original look and feel, but now patrons enjoy Aldo's year round. Known for its Eggs Benedict, Calamari, Coconut Shrimp, Cioppino and exquisite view, the restaurant accommodates its loyal patrons 7 days a week.
Please spend a few moments looking at our family's photographs. We are very proud of our history, and are happy to share some of our memories with you.